Have you ever heard of
Battle Trax
? I tried it out at the
National H.O.G. Rally
here in Richmond last year. I had so much fun!
Emphasizing personal best, rather than head-to-head competition or speed,
BATTLETRAX allows a rider to explore handling and braking limits in a safe,
challenging environment. Laid out on a large parking lot, the BATTLETRAX course features a series of turns, slaloms, and gates that place a premium on smoothness of operation and precise throttle control. Improvement throughout the day is recorded by each lap being automatically timed to 1/1000 of a second. To add to the fun, riders are broken into classes that allow like motorcycles to compete with each other.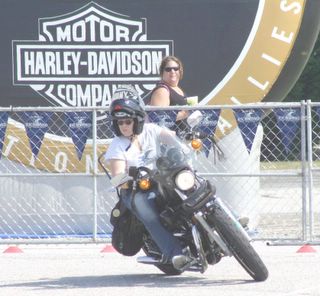 my attempt at Battle Trax

If you ever get the chance to try this out... DO IT!
You really only compete against yourself and it's a great experience.
peg